TranSYS ESR 13 Anastasiia Hryhorzhevska reports on Yalta European Strategy

Yalta European Strategy (YES) is a leading forum for discussing Ukraine's European future and global context. It connects Ukraine to international partners and builds networks of supporters for a new Ukraine worldwide.
For over 15 years, YES has initiated dialog between leaders from Ukraine, the EU, the US, and beyond. Within Ukraine, it provides a platform for the government and opposition. It brings together leaders from politics, business, media, civil society and the expert community.
This year YES was held in a new narrowed hybrid format – YES Brainstorming – during which the key speakers and selected audience attended the event in person in Kyiv, as well as joined it online. Despite such changes in organisation, YES managed to keep the most important thing – the possibility to see Ukraine not on its own, but on the map of the world and as a part of this world with all its challenges.
The main topic of this year's meeting was formulated in connection with the pandemic – "Post-COVID = Pre-Disaster? Steps to Survival" – but of course, it was not only the thing that was being talked about. In particular, half of the sessions focused on ​​social inequality, climate change, the decarbonisation of the world's economy and possible solutions to overcome the threats and leverage the available opportunities. For instance, Farid Zakaria, the host of CNN's Fareed Zakaria GPS, argued that climate change was no longer just environmental, but had far-reaching social consequences. And Mike Burnes-Lee, the director and principal consultant of Small World Consulting, pointed out that much more depends on how humanity responds to climate change. And this is true, in Ukraine many people still try not to notice the problem or think that either it does not concern them, or there is no money, or just "not today, maybe later". But unfortunately, the changes are obvious and cannot be ignored. And as Mike Burnes-Lee noted, the way out is to reduce energy consumption and develop renewable energy sources to replace fossil fuels.
Apart from the discussion panels featured by worldwide intellectuals and expert opinion leaders, YES has annually invited the students and young professionals from all regions of Ukraine to participate in the Young Leaders Section (YLS) in order to inspire Ukraine's brightest and most active youth. The YLS is a discussion platform for young people to share their ideas, learn from international and local professionals and develop practical solutions to meet modern challenges. Due to the ongoing impact of the pandemic, this year YES was able to invite only 30 participants for the YLS who were alumni of the Victor Pinchuk Foundation's scholarship program Zavtra.UA. The YLS was held in parallel with the main YES Brainstorming panels, and included meetings of young leaders with the key speakers and guests reflecting on discussions of the plenary sessions. Anastasiia, the ESR from the Max Planck Institute of Psychiatry, had a chance to participate at this year YLS and learnt from experience, as well as ask questions of the experts from the political, business and media sectors, such as Niall Ferguson, Rana Foroohar, Gillian Tett, Stephen Sackur, John Bolton, Tony Blair and others.
For more information, please refer to https://yes-ukraine.org/.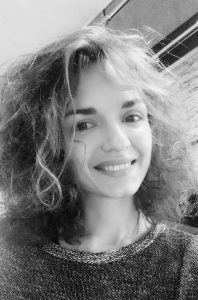 Author: Anastasiia Hryhorzhevska
ESR13: Understanding stress-responsive molecular networks