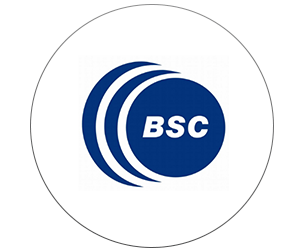 Barcelona Supercomputing Center-Centro Nacional de Supercomputación (BSC-CNS) is the national supercomputing centre in Spain. We specialise in high performance computing (HPC) and manage MareNostrum, one of the most powerful supercomputers in Europe, located in the Torre Girona chapel.
BSC is at the service of the international scientific community and of industry that requires HPC resources. Our multidisciplinary research team and our computational facilities –including MareNostrum– make BSC an international centre of excellence in e-Science.
With a total staff of more than 650 R&D experts and professionals, BSC has been successful in attracting talent, and our research focuses on four fields: Computer Sciences, Life Sciences, Earth Sciences and Computer Applications in Science and Engineering.
Most of BSC's research lines are developed within the framework of European Union research funding programmes, and the centre also does basic and applied research in collaboration with leading companies such as IBM, Microsoft, Intel, Nvidia, Repsol and Iberdrola. The quality of our investigation has been recognized by the Spanish government with the Severo Ochoa Excellence Centre grant for cutting edge Spanish science.
The Life Sciences Department composed by 6 research groups and 5 technical units works on various aspects of computational biology, ranging from bioinformatics for genomics to computational biochemistry and Natural Language Processing. The department participates in large international genome networks (ICGC, IRDiRC, GA4GH) as well as in research collaborations with major IT companies. It works in developoing applications in several areas of biomedicine and supports computational solutions for the analysis of large scale omic and biomedical data in HPC environments.