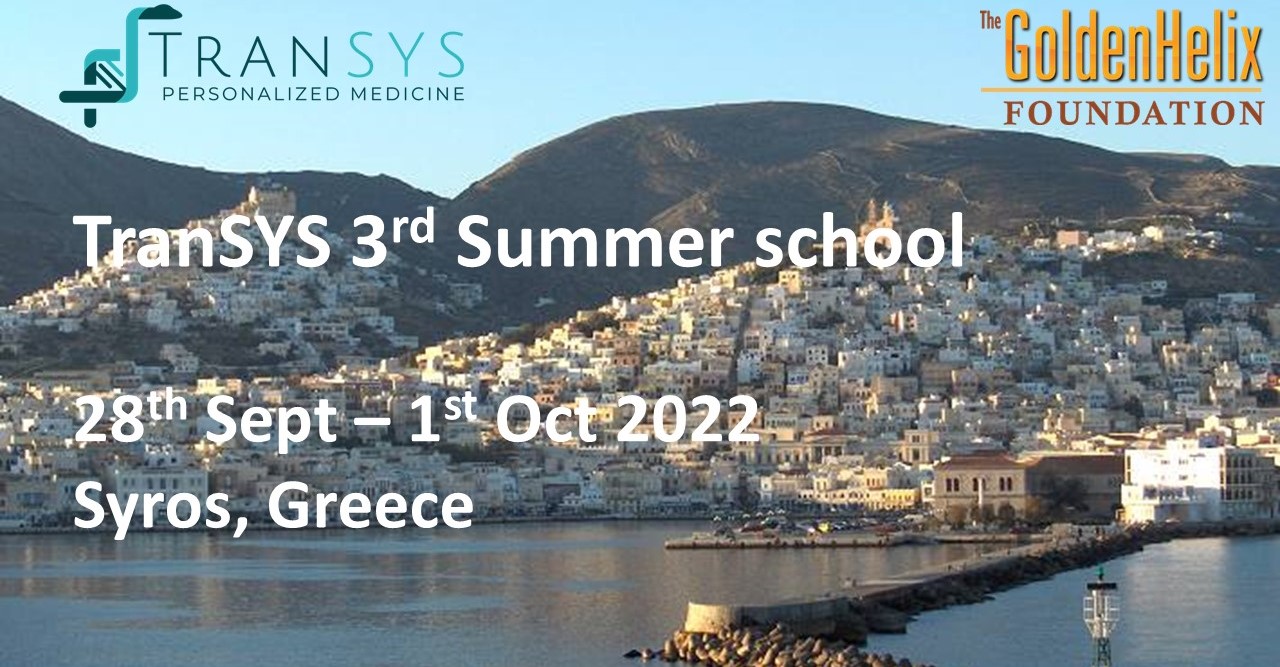 Following our previous successful online training schools held at Ljubljana's Centre for Functional Genomics and Bio-Chips (November 2020) on "data generation, technologies, study design & protocol development" and at Institute Pasteur, Paris, in November 2021 which focused on "data analytics, warehousing and security", we are happy to announce the 3rd TranSYS training school will be held as an in person and online event this September, organised by the Golden Helix Foundation, on the beautiful island of Syros, Greece.
This year's topic "Optimizing therapeutics, translation and valorization in the context of precision medicine", links to the TranSYS ITN work package (WP3) on Translational Medicine for Targeted Therapeutics.  This work aims to define signatures of larger groups of patients to create a critical mass for treatment strategies to become economically viable. It requires training on advances on interpretable Big Data science, and the exploitation of large cohorts to derive benchmark signatures, building on Preclinical Science and Molecular Medicine (WP1), Systems Analytics (WP2), clinical trial design and analysis. With this, our last summer school, we are completing the circle from basic science and systems analytics to translational and clinical science.
This school is organised by the TranSYS consortium and the Golden Helix Foundation offering researchers and students broad training opportunities in scientific and transferable skills.
Official language will be English. All times specified in Greek Time.
Wednesday, September 28, 2022
Morning session: Joint workshop with the Golden Helix Foundation. This joint workshop session is locally organized by the Golden Helix Foundation and succeeds the biennially-organised Golden Helix Summer School, whose theme this year is Genome Informatics and Health Economics in Genomic and Personalised Medicine. Overlapping both schools this workshop focuses on economic evaluation of genome-guided interventions, presenting the basic theoretical knowledge and methodology to perform health economic evaluation of genome-guided therapeutic interventions using real-data examples from clinical studies
9.30–10.45: Health economic evaluation in Genomic and Personalized Medicine – Christina Mitrooulou  
11.00–12.00: Health economic evaluation of genome-guided inventions – Maria-Theodora Pandi
Afternoon Session: Personalised medicine entails making paradigm shifts that stray away from purely mean efficacy models. Following tutorials on clinical trial design in previous TranSYS schools, precision medicine also requires adapting classical clinical trial designs to find personalised optimal treatment benefits. Interested? Then do not miss this session!
14.00–15.15: Dealing with the efficacy paradigm. François-Henri Boissel
15.45–17.00: The design and implementation of precision medicine trials in oncology.  Sumithra J Mandrekar
Thursday, September 29, 2022
Morning session: Oncology is one of the key medical specialties in which Personalised Medicine is currently being implemented in the clinic. In this session, examples from the clinical application of precision therapeutics in oncology, both in terms of solid tumours as well as haematological malignancies. Specific examples from economic evaluation of precision therapeutics in oncology will be presented, focused on real-life clinical data.
9.30–10.45: Translating Pharmacogenetic Research into a Clinical Oncology setting Ron van Schaik
11.00–12.00: Health Economic evaluation in Precision Oncology – Vasilios Fragoulakis
Afternoon Session: Delivering and properly communicating genetic testing results to patients is a crucial parameter to maximize the utility of genetic testing services. This workshop aims to describe what are the means to properly communicate genetic testing results to patients and their relatives,and investigate the ethical implications in the miscommunication of these results and the overall societal challenges.
14.00–15.15:  Ethical issues in Genetic testing: Can we avoid stigmatization and psychological distress?  Vasilios Xyrafas
15.45-17.00: Ethical issues in Genetic testing: Can we avoid stigmatization and psychological distress? Workshop continues  Vasilios Xyrafas
Friday, September 30, 2022
Morning session: The road from bench to bedside is long and windy. Novel viewpoints and developments regarding analytics, interpretable AI, translational platforms and infrastructures can make the journey more agreeable. Here, we present a selection with specific use cases.
9.00–10.00: From bench to bedside: bringing (precision) medicine to patients with translational modeling- Antje Walz
10.00–11.15: Federated and privacy-preserving analytics and machine learning for drug discovery and precision medicine – Yves Moreau
Afternoon Session: Artificial Intelligence and Machine Learning are emerging disciplines that are gradually gaining momentum in the field of Personalized Medicine, A small number of IT tools are employing artificial intelligence in order to interpret genetic information into a clinically meaningful format. In this session, an artificial intelligence-based IT tool will be presented, developed for reporting pharmacogenomic variants in order to personalized drug treatment modalities.
14.00–15.15: Artificial Intelligence and Personalized therapeutics – Christoforos Kasimatis
15.45-17.00: Personalized medicine approach for novel microglia-associated genetic variants in Alzheimer's disease- Mikko Hiltulnen
Saturday, October 1, 2022
Morning Session: TranSYS training schools always include transferable skills training sessions and in this school we address personal branding. Personal branding is a vital skill that focuses on the process of creating an identity for a professional as an individual or business. This involves developing a well-defined and consistent look, message, and presence both on- and offline. There are many psychology-based reasons why you should work on your own personal brand and these aspects will be presented, as well as how to be noticed in the research field. This is also tightly linked to the importance of knowing of what companies are looking for, for future employment.
9.30–10.45: Personal Branding. Identifying & Communicating Our Value & Growth Potential – Yiannis Pollalis
11.00–12.00: Industry Participation – what are companies looking for –