Sunday 22nd – Friday 27th November 2020
A cornerstone of Precision Medicine (PM) is comprehensive knowledge retrieval about the targeted individuals. Molecular identification and characterisation of patients is a high priority. Existing data in today's digital universe offers tremendous opportunities to achieve this but extracting insights and information from multiple heterogeneous and interdependent data in PM, requires new systems analytics, moving beyond classical algorithmic or mechanical processes and validation against disease models. Through a high-level multidisciplinary training programme, TranSYS aims to close the skills and knowledge gap that professionals and stakeholders in PM observe on a daily basis.
In particular, TranSYS' 1st training school focuses on "preclinical science and molecular medicine", addressing anyone who is interested in advancing approaches for the detection, diagnosis, prevention and treatment of complex diseases; linking experimental work in different disease areas with in silico and multi-scale modeling to maximize health benefits of clinical science discoveries and molecular insights.
Online and free to attend. Register here.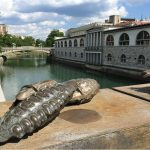 Our first training school, now online due to COVID, is organised by the TranSYS consortium and the University of Ljubljana Faculty of Medicine. This event offers researchers and students broad training opportunities in scientific and transferable skills such as study design & protocol, data generation & technology, mining of published data, communication & dissemination and includes featured workshops including From experiment to clinic and From Sample to Insight. Official language will be English. Registration is required.

All times are Brussels Winter Time.
Students and postdocs are invited to participate with abstracts for posters and/or oral presentations.
Deadline for submission of abstracts is 9th November 2020. Abstracts must be submitted with registration and in English. Selected abstracts will be invited to participate in the interactive poster sessions and/or selected talk sessions.
Abstract details
Title of your abstract should not exceed 250 characters including spaces and HTML codes. Total length of the abstract (without title, authors and affiliations) should not exceed 3000 characters including spaces and HTML codes. If you include a figure or table (optional), the abstract should not exceed 1500 characters including spaces and HTML codes. Within abstract, the figure/table may be referred to as "Figure 1"/"Table 1″.
Optionally, one figure or table may be included, together with a corresponding legend. "Figure 1:" or "Table 1:" will be added in front of the legend automatically. A figure should be prepared in grayscale and stored in either TIF, PNG, JPG or PDF format. Its dimension should not exceed 15.5 cm in width and 8.0 cm in height. The quality of an image should be at least 600 DPI and file size should not exceed 4 MB. Table should fit on half a page. Figure/table legend should not exceed 300 characters including spaces and HTML codes.